Our Oct. 6, 2018 HEADLINERS!
Main Street
2017 International Quartet Champion

Buy Tickets
Established in 2011, Main Street quartet harkens back to the traditional style of barbershop harmony with soft shoe dance, slapstick routines and nostalgic songs – tipping their hat to the performances from turn of the century song and dance men. Whether it's the waltz clog, a silly one-liner or a tender ballad of romance, a typical Main Street show will pay respect to the creative singers, dancers and humorists who blazed the trail in entertaining audiences around
the world.
With a shine on their shoes, a snap in their spats and a twirl of the hat… "…you've got a date
with Main Street."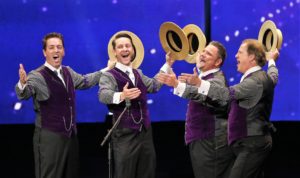 The members of Main Street (L to R), Mike McGee, Myron Whittlesey, Tony De Rosa and Roger Ross bring a combined 100+ years of barbershop experience to the stage. Notable past quartets include Keepsake, Max Q, Metropolis, Platinum and Rounders. While their involvement within the Barbershop Harmony Society is impressive, all four members have been or currently are performers at Walt Disney World with the Dapper Dans of Main St. USA. Entertaining audiences outside of barbershop include performances in film, television, radio and musical theater.